Many individuals suffer from tinnitus (ringing or roaring in the ears). Typical causes of tinnitus are hearing impairment, diseases of the ear, accumulation of ear wax, noise exposure, stress or fatigue, high blood pressure, or excessive use of certain drugs (e.g. aspirin).

Eliminating the underlying cause may relieve tinnitus. Often times, these individuals also suffer from hearing loss. Hearing aids have proven to be effective for these patients in reducing these noises.
The majority of people with hearing loss are hearing aid candidates. The hearing aid that will work best for you depends on the type and severity of your hearing loss. If you have a hearing loss in both of your ears, two hearing aids are generally recommended because two aids provide a more natural signal to the brain. Hearing in both ears also will help you understand speech and locate sounds more easily.
At our office, we will evaluate your records and help determine which type and style of hearing aid that best suits your needs and lifestyle. A hearing aid will not restore normal hearing. With practice, however, a hearing aid will increase your awareness of sounds and their sources and improve ease of communication. You will want to wear your hearing aid regularly, so select one that is convenient and easy for you to use. With today's modern hearing aids, digital sound processing allows for many features to make listening easier in background noise and on the phone. These advances allow us to fine tune the hearing aids specifically to your hearing loss and needs.
Some advanced features include:
Directional microphones – dual microphone system designed to pick up sounds in front of you and reduce some sounds coming from behind you. Its purpose is to improve hearing when around excessive background noise.
Feedback control – software design built within the hearing aid's digital chip to reduce hearing aids from squealing in the ear.
Bluetooth compatible – wireless technology that sends signals from electronic devices like iPhone & Android cell phones, iPods and television directly to both hearing aids.
Rechargeable hearing aids are available as well
Please contact our office at 225.408.6734 for more information or to schedule an appointment.
Excessive persistent loud noise exposure (ex: power tools; loud music concerts) or sudden blasts (ex: explosions, shotguns) can cause permanent and irreversible damage to the hearing system called sensorineural hearing loss. Noise-induced hearing loss is the second most common form of sensorineural hearing loss, after age-related hearing loss. The onset of this hearing loss may be sudden or gradually worsen over many years. Hearing loss caused by exposure to recreational and occupational noise can be prevented with the use of hearing protection devices, reducing the volume at the source and limiting prolonged exposure to loud noises.
Sound loudness is measured in decibels. Eight hours of hearing noise at 85 decibels could hurt your hearing. At higher sound levels, you could lose hearing in even less time.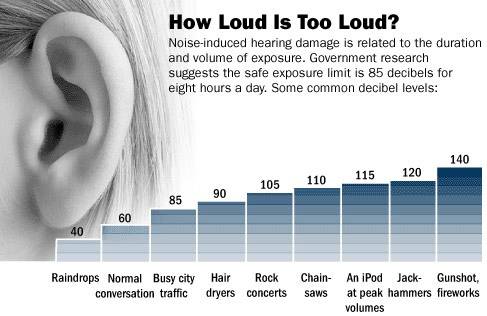 Signs that your environment may be too loud:
You have difficulty hearing someone who is within three feet of you
ou have pain in your ears, ringing or buzzing (tinnitus) , and/or difficulty understanding speech after being in a loud setting
Kelley Ainsworth Powell
, MCD, CCC-A has been a Clinical Audiologist since 1996. She earned her Masters of Communication Disorders degree from Louisiana State University Medical Center in New Orleans, LA and her Bachelors From LSU Baton Rouge. A native of Baton Rouge, Ms. Ainsworth Powell stresses the importance of staying active and involved in the community. She is Louisiana State licensed, and holds credentials in the American Speech Language and Hearing Association (ASHA).
Kallie R. LeBourgeois,
Au.D., CCC-A has been a Clinical Audiologist since 2016. She earned her Doctorate of Audiology from Louisiana State University Medical Center in New Orleans, LA and her Bachelors From LSU Baton Rouge. Raised in the New Orleans area, Dr. LeBourgeois believes that good hearing health is vital in proper communication between family and friends. She is Louisiana State licensed, and holds credentials in the American Speech Language and Hearing Association (ASHA).
Their clinical experience includes diagnostic hearing evaluations for all ages, pediatric through geriatric, fittings and repairs of hearing aids and cochlear implants, evaluations of vestibular and balance disorders, custom swim molds, and hearing protection.
Hearing loss can not only affect the patient's interactions with family and loved ones, but in a social setting as well. By educating the patient and family about hearing loss and setting realistic goals for hearing aids, the patient can have the opportunity to enjoy the sounds and joys of life that they have been missing.
To schedule an appointment with our experienced and certified audiologist, plase call The Hearing Center at 225.408.6734 or email at
hearingcenter@entbr.com
Hearing loss affects approximately 28 million people in the United States (about 1 out of 10 individuals). Hearing loss among seniors is the third most common treatable health problem in the United States, behind arthritis and hypertension. Untreated hearing loss can lead to withdrawal from social occasions, loneliness, and depression. It can affect alertness and increase the risk to personal safety and recent research shows a possible link between hearing loss and memory loss in older adults.

Among children (under age 18) in the U.S., 15% have some degree of hearing loss. Hearing is critical for the development of speech, language, communication skills, and learning. The earlier a hearing loss is identified and managed, the less serious the long-term effects. Among children, hearing problems may cause problems with speech and language development, emotional difficulties and low self-esteem, and learning and behavior problems in school. Signs to look for include delayed development of spoken language or vocabulary skills, turning TV or radio very loudly to hear, often asking "Huh?", or difficulty focusing in school.

Hearing loss can be categorized by which part of the auditory (hearing) system is damaged. The type and degree of loss will be determined by an audiologist. The office of Drs. Hansbrough, Peters, Traxler & Scallan has two Clinical Audiologists on staff-- Amanda McCann Holland, Au.D., CCC-A and Kelley Ainsworth Powell, MCD, CCC-A. If the results of an audiological evaluation reveal a medical cause or complication of hearing loss (e.g. current middle ear infection, mastoiditis, otosclerosis, etc.) one of the physicians in the practice is consulted. He or she is able to address the matter from a medical standpoint and inform the patient of all possible interventions including medication or surgery. If a hearing evaluation indicated that the condition cannot be medically or surgically treated, additional testing may be done to determine whether hearing aids will be beneficial.

If you suspect you or your child may have a hearing loss, contact The Hearing Center at 225.408.6734.